International Shipping
Singto Official Online Shop does not directly ship outside Japan.
Customers who want overseas shipping can use the WorldShopping overseas purchasing/delivery service.
WorldShopping can purchase the product for you and ship it to your address outside Japan.
Please use this service to purchase.
Read the Note below and agree to them to use the service.
<Instructions>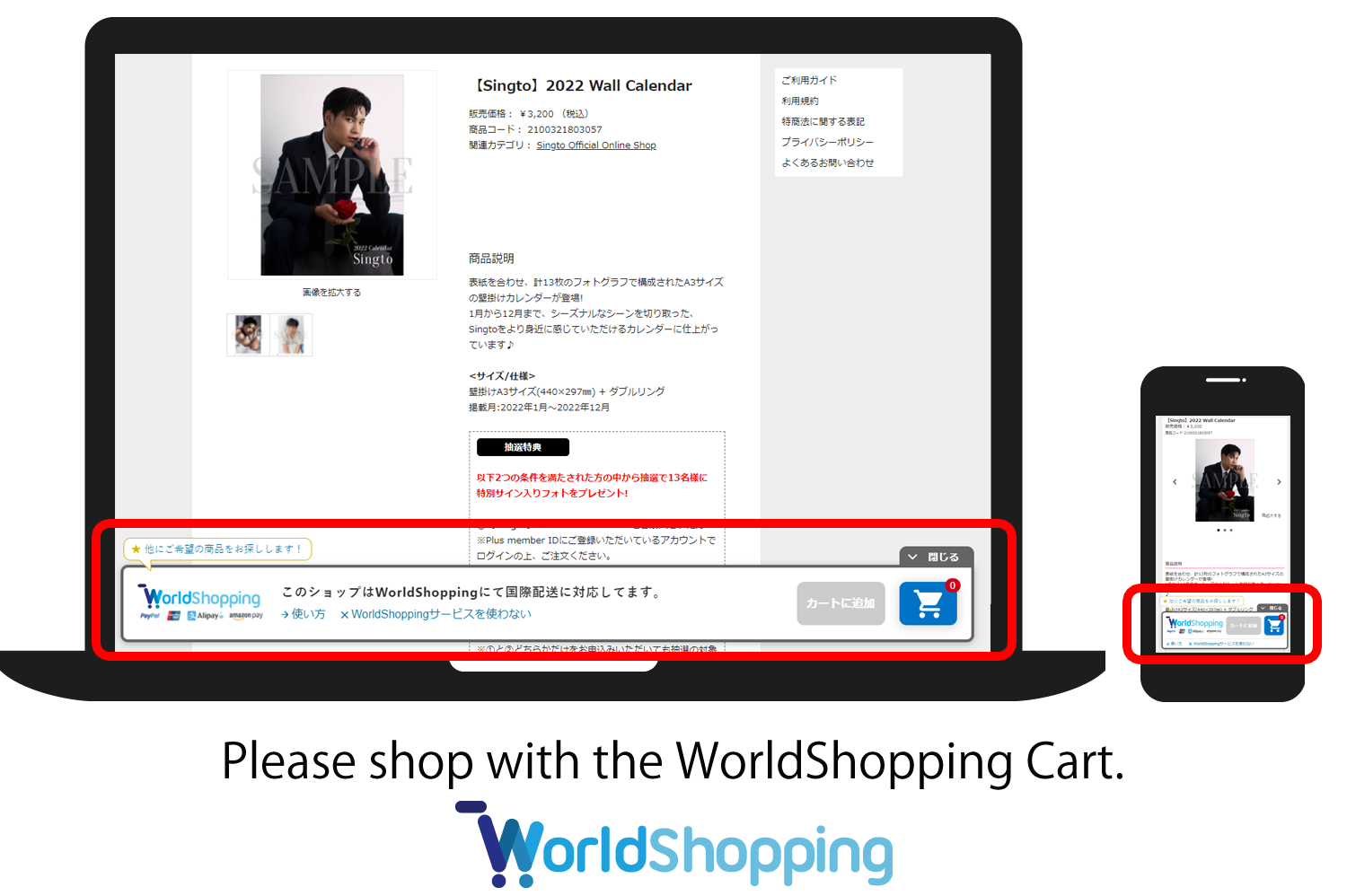 1.When you access the website from overseas, the "WorldShopping Cart" will be displayed automatically.

2.Add your favorite items to the WorldShopping cart.
Click "Add to Cart" of the WorldShoppinng banner to proceed to buy your favorite items.
The cart will only appear for items that can be purchased from your country.
→Explore WorldShopping Guide for More details.

<Fees>
WorldShopping charges a fee of 10% of the total product cost* for its services. When your order is shipped to WorldShopping, you will receive a separate payment request from WorldShopping that includes international shipping, handling, and any additional costs (if applicable). See WorldShopping Fees for more information.
*Total Product Cost = (Product Price + Japanese Domestic Shipping Costs).

If you are shipping to the following countries, the international shipping fee will be included when you pay for your order. Therefore, you will not receive a separate payment request from WorldShopping once payment is made.

Eligible Countries:
Indonesia, South Korea, Singapore, Sri Lanka, Thailand, Taiwan, China, Vietnam, Hong Kong, Macau, Malaysia, Philippines

<Payment>
About Overseas Delivery
You can request "Worldshopping'' to buy itmes on behalf of you and to have them shipped. WorldShopping purchases Japanese products on your behalf and delivers them around the world.
→Explore How WorldShopping Purchases and Delivers As Your Agent to know more.

<For International Customers>
As WorldShopping buys a product on behalf of the customer, we can not accept any changes in the order such as (order cancellation, returns) once an order has been placed with WorldShopping. We request your understanding of the issue and please confirm all the product details before placing the order. For more details, see here:https://www.worldshopping.global/en/help/faq/

<About inquiries>
Basically, inquiries to our shop will be handled in Japanese only. Please understand that we cannot respond to inquiries in other languages. You can contact WorldShopping from the following links.
• WorldShopping Contact English
• WorldShopping Contact (Simplified Chinese)
• WorldShopping Contact (Traditional Chinese)
<Notes>
・WorldShopping for proxy purchasing and Singto Official Online Shop are operated by different companies. For inquiries about WorldShopping, contact the WorldShopping customer support. Such inquiries cannot be answered by Fanplus which operates Singto Official Online Shop.
・The purchasing procedure and terms of use for WorldShopping are different from Singto Official Online Shop. When using WorldShopping services, check WorldShopping's terms of use, cautions, explanations, etc. If you have any questions, contact WorldShopping.
・Because of the way our service works, you may need to wait a while from the time you submit your manual WorldShopping request to the time the proxy purchase is actually completed.
Please understand that limited-quantity items may become sold out during the process.
For limited-time items, please be sure to start the process early.
・Items with a scheduled release date will be delivered to the address designated by the proxy shipping provider during the delivery period indicated on the product page.
・Delivery to the customer is expected to take some time. We appreciate your understanding in advance.
・Fanplus which operates the Singto Official Online Shop cannot be held liable for any problems with any product shipped by WorldShopping; any overseas delivery problems (product loss or damage during shipment); and any problems with the contract, negotiations, and transactions between you and WorldShopping.